Aquasword: The Official Website for the Society of Underwater Swordfighting
DON'T FORGET TO PAY YOUR MEMBERSHIP DUES BY DECEMBER 1ST!!!
---
Underwater swordfighting has become a very popular sport in the 12 years since the League of Stabbity-Stab was formed. Now thousands of competitors from around the world don scuba chainmail and battle it out on the ocean floor.
We have two divisions with surprisingly different rules and techniques: freshwater and salt water.
Freshwater Diver

Saltwater Diver

New Helmet Rules
We have a new set of helmet rules. All helmets must be able to keep your insides on the inside.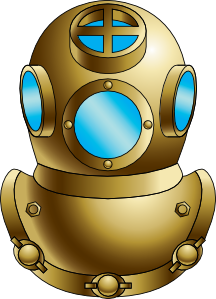 Rust Prevention Techniques
Our fighters have reported good results with smearing their equipment with lard before a dive. You can now purchase discount 5-gallon buckets of lard from our online store.

Latest Deaths
Bob Johansson, 2015-10-12, Drowned in Lake Erie
Reginald Nathaniel, 2015-10-21, Impaled in the Ural Sea
Sarah Sanderson, 2015-10-26, Lost no-holds-barred steel cage match against a swordfish, Baja California coast.

Please join us in sending condolences to their families.
Joining The Society of Underwater Swordfighting
Send $50 to Dave Tompkins, 1817 Ford St., Detroit, MI 48238 and wait 4-6 weeks for delivery of your membership card.
---
Copyright © 2003-2015 TSoUS, LLC.